STORE FRONT TEMPORARY CLOSED | $9 SHIPPING FOR ORDERS $50+ | FREE SHIPPING FOR ORDERS $100+ | BC RESIDENCE ONLY | NOTE: PLEASE EXPECT A SHIPMENT DELAY OF 1 TO 2 DAYS DUE TO HIGH VOLUME OF SHIPMENTS RECEIVED.
close

CATEGORIES

Featured Items

BENCH PROG. DC SWITCH POWER SUPPLY...

More mirco-controllers

More Developement Tools

More Prototyping

More Modules

Featured Items

The Arduino Uno is a microcontroller...

Raspberry Pi 4 Model B A...

More prototyping Tools

COMMUNITY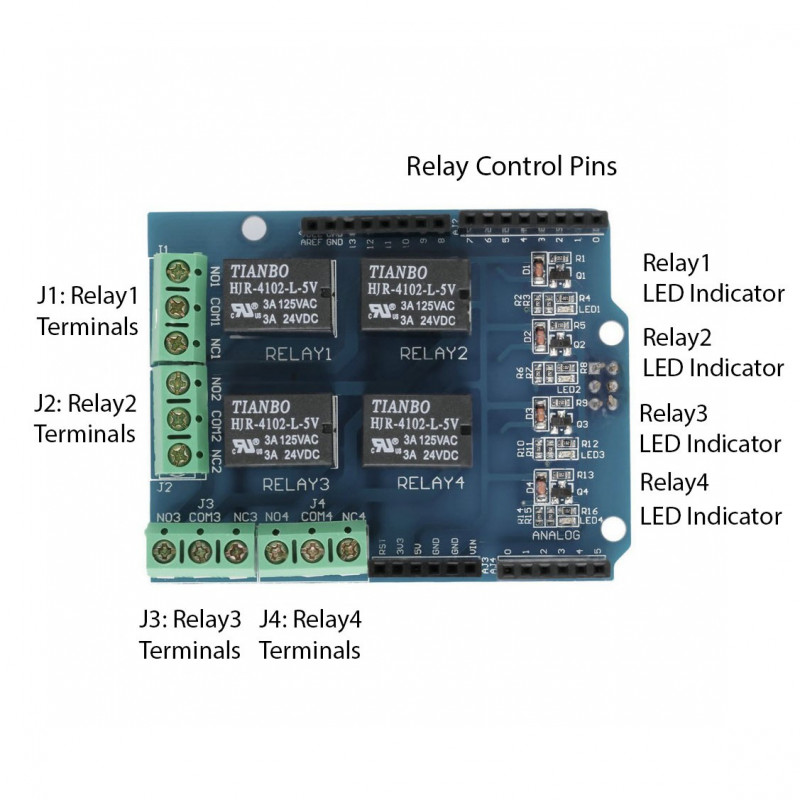 All pictures are for illustrative purposes only.
 
ARDUINO 4 RELAY WITH I/O SHIELD
The Relay Shield features four high quality relays and provides NO/NC interfaces, four dynamic LED indicators to show the on/off state of each relay, and the standardized shield form factor to provide a smooth connection to the Arduino board or other Arduino compatible boards.
Features
Arudino Uno/Leonardo compatible; Other board or microcontroller via jumper cables
Interface via digital I/O pins 4,5,6, and 7
Relay screw terminals
Standardized shield shape and design
LED working status indicators for each relay
High quality relays
COM, NO (Normally Open), and NC (Normally Closed) relay pins for each relay
Specification
Project

Min

Typical

Max

Unit

Supply Voltage

4.75

5

5.5

V

Power consumption (@ 5V)

—

—

180

mA

Opening and closing times per minute

—

—

30

Frequency

Maximum switching voltage per channel

125VAC/24VDC

—

Maximum switching current per channel

3

A

Dimension

69X54X23

mm

Net Weight

43

g
NOTE: Place 2 layers of electrical tape on the top of the Arduino's usb connector. This will prevent the relay shield from making contact. Do not operate voltage more than 35V DC.
Shield Interface Description
Relay Shield V2.0 terminal connections description
Digital 4 – controls RELAY4's COM4 pin (located in J4)
Digital 5 – controls RELAY3's COM3 pin (located in J3)
Digital 6 – controls RELAY2's COM2 pin (located in J2)
Digital 7 – controls RELAY1's COM1 pin (located in J1)
J1 Interface/Terminal Pin Description:
COM1 (Common Pin) : The relay pin controlled from the digital pin.
NC1 (Normally Closed): This terminal will be connected to COM1 when the RELAY1 control pin (Digital 7 I/O pin) is set low and disconnected when the RELAY1 control pin is set high.
NO1 (Normally Open): This terminal will be connected to COM1 when the RELAY1 control pin (Digital 7 I/O pin) is set high and disconnected when the RELAY1 control pin is set low.
Terminals J2-4 are similar to J1 except that they control RELAY2-RELAY4 respectively.

Note: Only four Arduino Digital I/O pins, pins 4-7, are required to control the four different relays. Additionally the 5V and two GND Arduino pins are also required to power up the Relay Shield.