PLEASE EXPECT DELAYS IN SHIPMENT OF 1 TO 2 DAYS FOR DELIVERY TIME DUE TO THE HOLIDAY SEASON.
close

CATEGORIES

Featured Item

BENCH PROG. DC SWITCH POWER SUPPLY...

More mirco-controllers

More Developement Tools

More Prototyping

More Modules

Featured Items

The Arduino Uno is a microcontroller...

Raspberry Pi 4 Model B A...

More prototyping Tools

Featured Products

CA$900.00

CA$1,000.00

-10%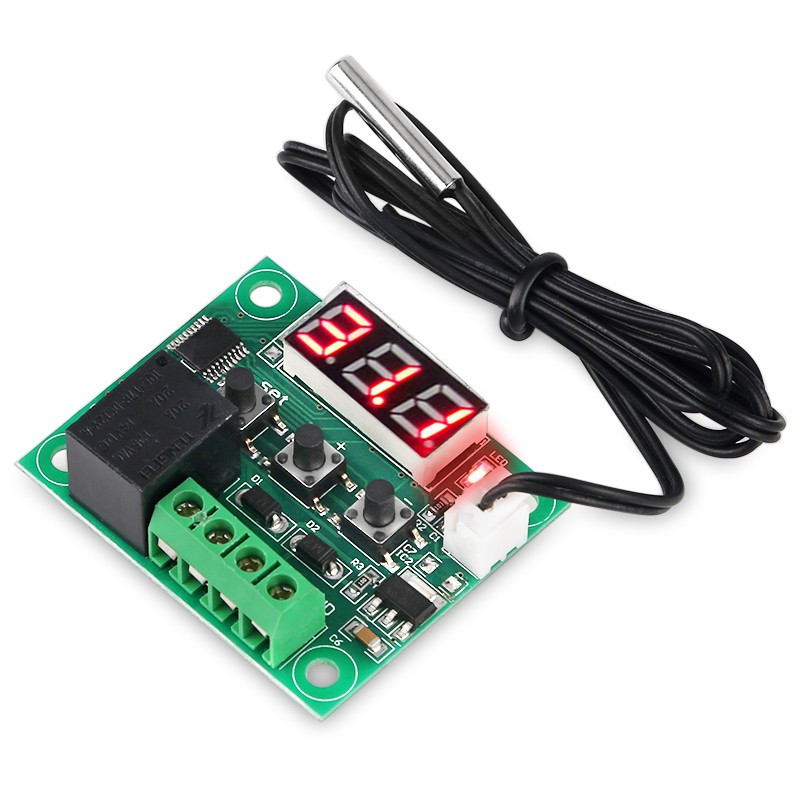 All pictures are for illustrative purposes only.
 
DIGITAL TEMPERATURE CONTROL KIT W/12V 10A RELAY
DIGITAL TEMPERATURE CONTROL KIT W/12V 10A RELAY -50C to 110C
Specifications:

Temperature range :-50-110 °
Dimensions: 48.5 * 40mm
Temperature control mode: ON / OFF
Resolution:When temperature is 0.1°, the resolution is -9.9~99.9, other temperature segment is 1°
Control accuracy: 0.1 °
Hysteresis accuracy: 0.1°
Refresh rate: 0.5S
High temperature protection: 0-110°
Supply voltage: DC 12V
Static current: ≤ 35MA, attract current ≤ 65MA
Output voltage: DC 12V
Output power: 20A relay
Measurement input: NTC (10K 0.5%) Waterproof Sensor
Environmental requirements: -10 ~ 60 ° ,Humidity 20% -85%
How to use:

Connect the power supply and the load, you can supply to the controller,
Is displayed as a measured temperature,
Press the SET button, the display flashes the temperature,
Press - to set the desired temperature,
After setting press SET to confirm return,
The controller automatically performs the relay by setting off!
Lights, LED status descriptions:
Indicator: Off The relay is switched off, Always indicate the relay is closed.
LED: Shows LL is the sensor open, showing ?HH is out of range, the thermostat will be forced to close the relay, the display --- as high temperature protection.
Modes:
P0 :Cooling / Heating; Range: C/H; Default: C
P1 :Hysteresis Setting; Range:0.1-15; Default: 2
P2 :Highest Setting Limit; Range:110; Default: 110
P3: Lowest setting Limit; Range:-50; Default: -50
P4 :Temperature Correction; Range:-7-7°c; Default: 0°c
P5: Delay Start Time; Range:0-10 Minute; Default: 0
P6: Key Tone Switch; Range:0-110; Default: Off