STORE FRONT TEMPORARY CLOSED | $9 SHIPPING FOR ORDERS $50+ | FREE SHIPPING FOR ORDERS $100+ | BC RESIDENCE ONLY | NOTE: PLEASE EXPECT A SHIPMENT DELAY OF 1 TO 2 DAYS DUE TO HIGH VOLUME OF SHIPMENTS RECEIVED.
close

CATEGORIES

Featured Items

BENCH PROG. DC SWITCH POWER SUPPLY...

More mirco-controllers

More Developement Tools

More Prototyping

More Modules

Featured Items

The Arduino Uno is a microcontroller...

Raspberry Pi 4 Model B A...

More prototyping Tools

COMMUNITY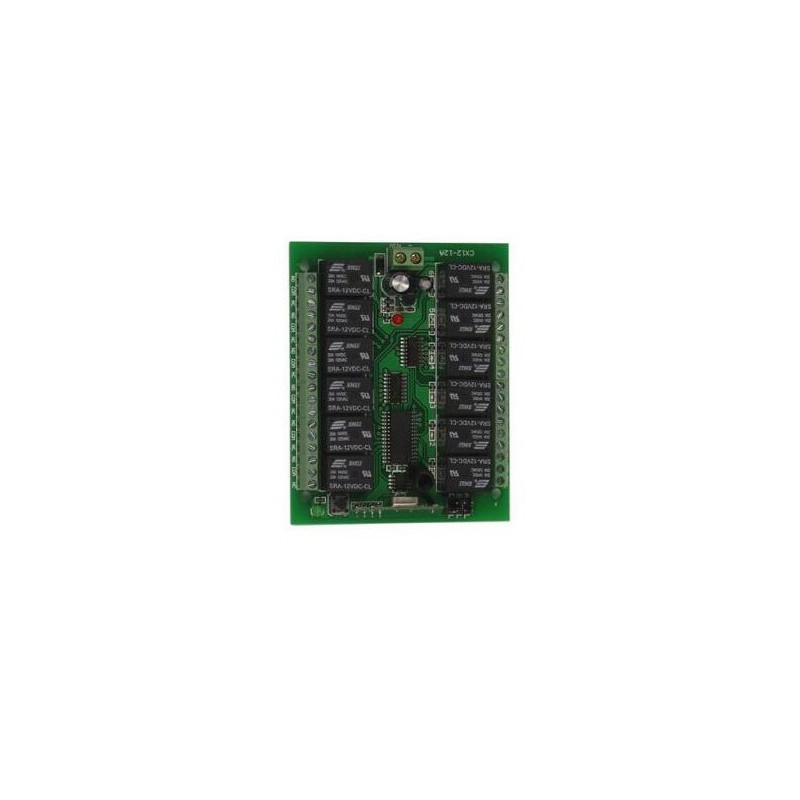 All pictures are for illustrative purposes only.
 
PROGRAMMABLE REMOTE CONTROLLER 12 WAY RELAY NO REMOTE
PROGRAMMABLE REMOTE CONTROLLER 12 WAY RELAY NO REMOTE

Receiver Parameters:
Model No.: S12CA-DC09 / S12CA-DC12 / S12CA-DC24
Power Supply (Operating Voltage): DC12V±1V (S12CA-DC12), DC9V±1V (S12CA-DC09), DC24V±1V (S12CA-DC24)
Output: Relay output (Normally open and normally closed)
Working Voltage Range of Relay: AC110~240V or DC0~28V
Working Frequency: 315MHz / 433MHz
Channel: 12 CH
12 Control Modes: Toggle, Momentary, Latched, Toggle + Momentary + Latched, Toggle + Latched, Momentary + Latched, Toggle + Momentary
Static Current: ≤6mA
Maximum Working Current: 5A / each channel
PCB Size: 94mm x 73mm x 18mm
Case Size: 100mm x 80mm x 30mm
Work with Fixed code transmitters

Product Description:
Model No.: 0021022 (CV-12)
Shell Color: White
Channel/Button: 12
Button Symbol: 1, 2, 3, 4, 5, 6, 7, 8, 9, 10, 11, 12
Operating Voltage: 12V (1 x 23A -12V battery, can be used for 12 months)
Operating Current: 15mA
Operating Frequency: 315Mhz / 433Mhz
Encoding Chip: LX2260A-R4
Encoding Type: Fixed code by soldering, up to 6561 codes
Transmitting Distance: 500m / 1500ft (theoretically)
The distance of 500m is a theoretical data, it shall be operated in an open ground, no barriers, no any interference. But in the practice, it will be hindered by trees, walls or other constructions, and will be exposed to some interference by other signals. Therefore, the actual distance may or may not reach 500m.
If you stretches the telescopic antenna, it can have a further working range, which is twice as much as it used to be.
Modulation Mode: ASK
Operating Temperature: -20 ° C to +70 ° C
Unit Size: 110mm x 50mm x 18mm
Weight: 60g
Uses: garage doors, motorcycles, car alarm products, home security products, wireless remote control products, industrial control products.