STORE FRONT TEMPORARY CLOSED | $9 SHIPPING FOR ORDERS $50+ | FREE SHIPPING FOR ORDERS $100+ | BC RESIDENCE ONLY | NOTE: PLEASE EXPECT A SHIPMENT DELAY OF 1 TO 2 DAYS DUE TO HIGH VOLUME OF SHIPMENTS RECEIVED.
close

CATEGORIES

Featured Items

BENCH PROG. DC SWITCH POWER SUPPLY...

More mirco-controllers

More Developement Tools

More Prototyping

More Modules

Featured Items

The Arduino Uno is a microcontroller...

Raspberry Pi 4 Model B A...

More prototyping Tools

COMMUNITY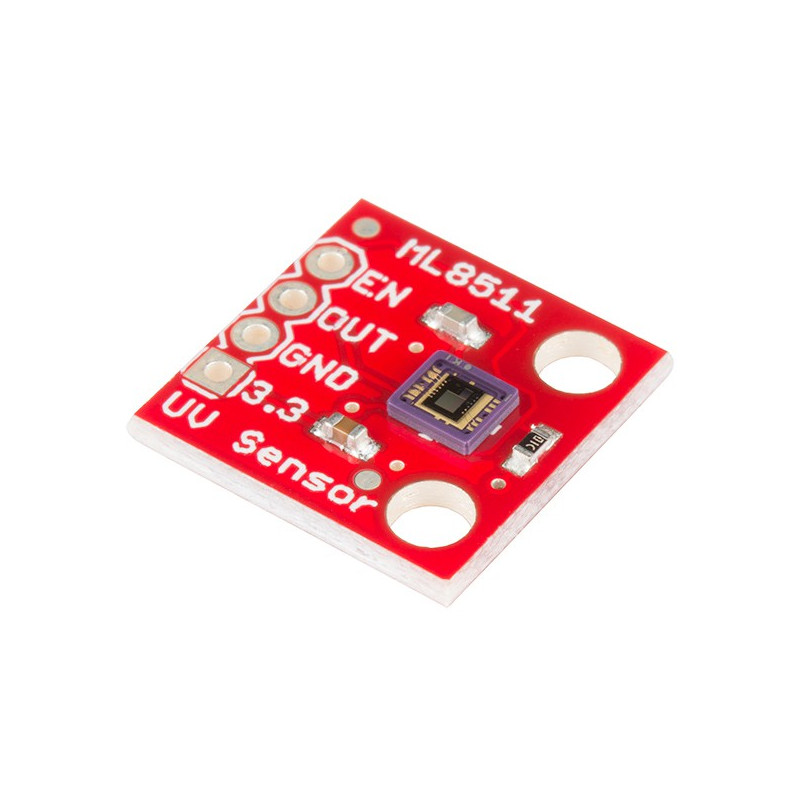 All pictures are for illustrative purposes only.
 
UV SENSOR BREAKOUT - ML8511
The ML8511 breakout is an easy to use ultraviolet light sensor. The MP8511 Sensor works by outputing an analog signal in relation to the amount of UV light that's detected. This breakout can be very handy in creating devices that warn the user of sunburn or detect the UV index as it relates to weather conditions.
This item is an retired item.
This item has been retired.
This sensor detects 280-390nm light most effectively. This is categorized as part of the UVB (burning rays) spectrum and most of the UVA (tanning rays) spectrum. It outputs a analog voltage that is linearly related to the measured UV intensity (mW/cm2). If your microcontroller can do an analog to digital signal conversion then you can detect the level of UV!
For datasheet, visit SparkFuns Page .