OUR STORE IS OPEN! HOURS: MON - FRI 9AM - 5PM (SAT/SUN CLOSED) VISIT US IN-STORE FOR A SAFE SHOPPING & SERVICE EXPERIENCE, OR SHOP ONLINE FOR PICKUP OR DELIVERY.
close

CATEGORIES

Featured Items

BENCH PROG. DC SWITCH POWER SUPPLY...

More mirco-controllers

More Developement Tools

More Prototyping

More Modules

Featured Items

Raspberry Pi 4 Model B A...

More prototyping Tools

COMMUNITY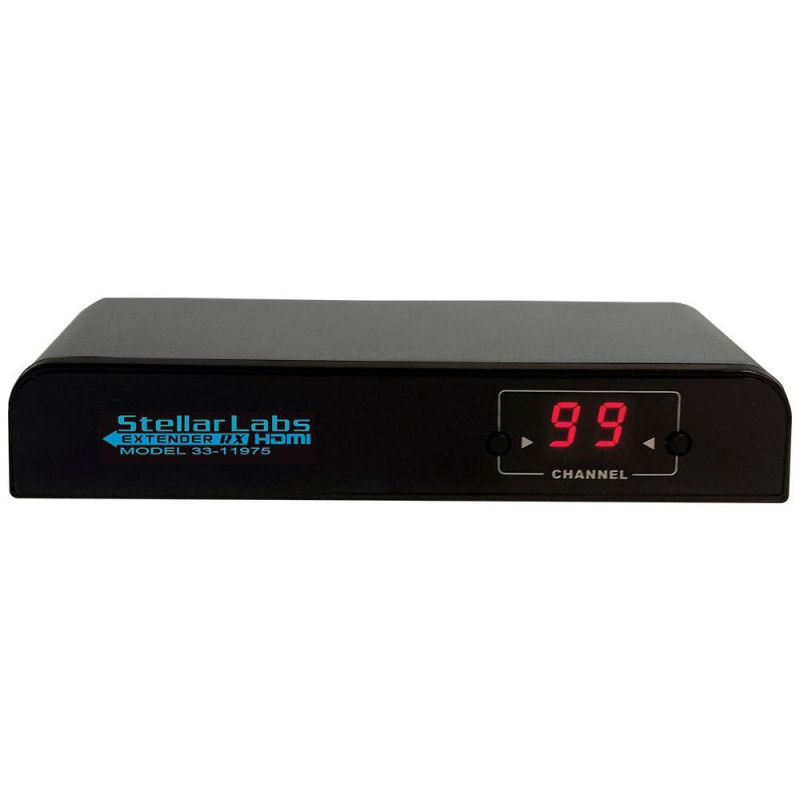 All pictures are for illustrative purposes only.
 
HDMI OVER COAX CABLE TX/RX KIT
HDMI OVER COAX CABLE TX/RX KIT
HDMI-Over-Coax Extender (transmitter/Reciver)
High quality, frequency agile transmitter/receiver set allows transmissions of high definition HDMI signal over standard 75ohm coaxial cable, at distances exceeding 2,000 feet. The HD signal is modulated in QAM format, on of 100 selectable frequencies, then demodulated at the other side. This allows the signal to be managed in the same manner as any RF signal, with capability to split to multiple receivers, or combine multiple transmitters set to different channels, using simple CATV splitters and combiners.
Additional Details:
This set modulates high definition A/V program material to RF, in industry standard QAM format. This unique feature allows much further cable runs, as well as tremendous flexibility when incorporating multiple HD sources or video monitors. Since standard 75Ω cable can be used, the benefit of simple cable installation and termination alone make this an ideal manner of distributing HD signals. It even allows easy integration with cable that may already be in place.
To distribute one HD source to multiple monitors, simply insert and industry standard CATV splitter and add a receiver for each set. There is enough RF signal strength to split to 16 or more sets, and still have enough power for a long length of cable.
By using industry standard splitters as combiners, you can insert multiple different HD sources onto a single coax cable, send a great distance, and split at the receiving end. Simply assign transmitters and receivers to matching channels.
Finally, in multiple set applications, each set syncs with its individual receiver. This allows each television to display the maximum resolution it is capable of, regardless of limitations of other sets in the system. This is a benefit over traditional HDMI splitters that often require the monitor of lowest resolution capability to dictate the max resolution of the entire system.
Installation Note:
This system is primarily designed for use in environments where very long length of 75 ohm cable is used. The output strength of the transmitter is +0dBm, while the level required at the receiver, for best performance, is -71 ~ -80dBm depending upon frequency used. In situations where less than 300' of cable is used, with no splitters, a 20dB attenuator is recommended. For best performance, especially in environments where multiple transmitters are used, the signal gain at the receiving end should be kept between -50 ~ -80dBm. Cable loss (chart is included in the manual) and splitter loss will need to be calculated, additional
attenuators
may be required. For questions, feel free to contact our technical support department.
Application Example: (
Sports Bar
)
Your head end rack has four satellite receivers, and you have sixteen sets located around your establishment. Use a 33-11970 transmitter on each satellite receiver, use a 4x1 combiner (MCM #33-2196) to combine all four transmitters to a single cable. Set each transmitter to a channels at least 30HMz apart. Run your single coax cable to your televisions, split as needed, and place a 33-11975 receiver at each set. Determine the satellite receiver you want to view on each set, and set each 33-11975 receiver channel appropriately.
Features:
Easy pushbutton channel selection
LED channel display (00 ~ 99)
H.264 video encoding
Compatibility with resolutions up to 1080p, 60Hz
Standard F connections
Maximum distance: 2,300 feet
Compatibility with all 75ohm cable including RG-11U, RG59/U, RG59 mini, and RG6/U
Each unit requires 5VDC/1A, AC adapters included
Product dimensions: 7/8" (H) x 5" (W) x 2-5/8" (D)
Resolutions Supported:
480i/P @ 60Hz
576i/P @ 50Hz
750i/P @ 50/60Hz
1080i/P @ 50/60Hz
Supports HDMI graphics resolution uo to 1920 x 1080 @ 60Hz
For complete specification details, see the attached instruction manual.