WE ARE CLOSED FOR THANKSGIVING DAY ON MONDAY, OCT 14.
close

CATEGORIES

Featured Item

BENCH PROG. DC SWITCH POWER SUPPLY...

More mirco-controllers

More Developement Tools

More Prototyping

More Modules

Featured Items

The Arduino Uno is a microcontroller...

Raspberry Pi 4 Model B A...

More prototyping Tools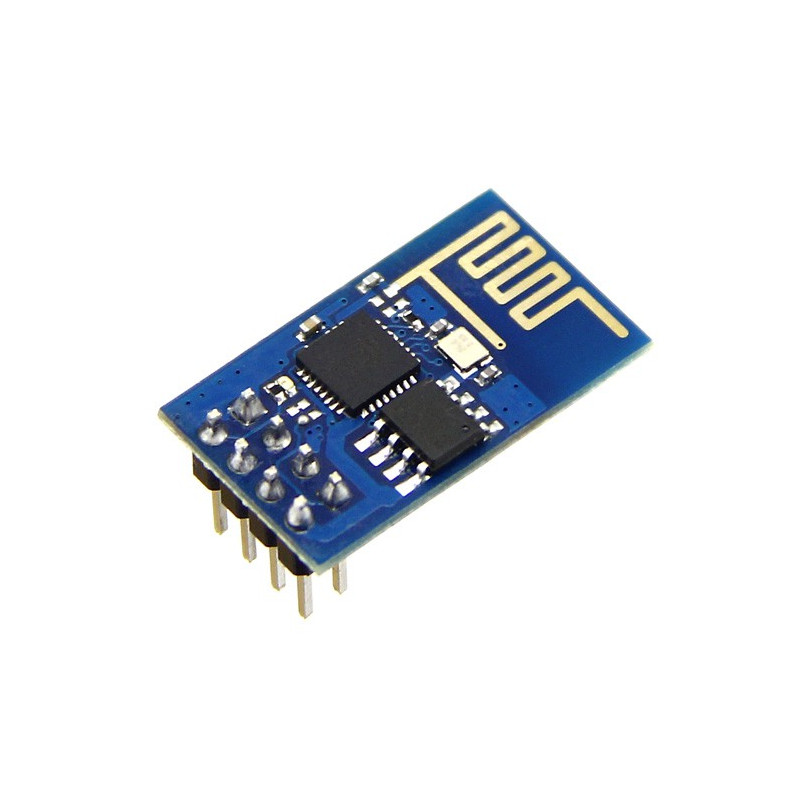 All pictures are for illustrative purposes only.
 
The ESP8266 WiFi Module is a self contained SOC with integrated TCP/IP protocol stack that can give any microcontroller access to your WiFi network. The ESP8266 is a simple plug and play with any Arduino to give wifi to the microcontroller, as effective as a WiFi shield.
With a design that has powerful on-board processing, storage capability, and compact, the ESP8266 is integrable with the sensor and other application devices through its GPIO.
The ESP8266 supports APSD for VoIP applications and Bluetooth co-existance interfaces, it contains a self-calibrated RF allowing it to work under all operating conditions, and requires no external RF parts.
Note: The ESP8266 Module is not capable of 5-3V logic shifting and will require an external Logic Level Converter. Please do not power it directly from your 5V dev board.
Note: This new version of the ESP8266 WiFi Module has increased the flash disk size from 512k to 1MB.
Features:
802.11 b/g/n
Wi-Fi Direct (P2P), soft-AP
Integrated TCP/IP protocol stack
Integrated TR switch, balun, LNA, power amplifier and matching network
Integrated PLLs, regulators, DCXO and power management units
+19.5dBm output power in 802.11b mode
Power down leakage current of <10uA
1MB Flash Memory
Integrated low power 32-bit CPU could be used as application processor
SDIO 1.1 / 2.0, SPI, UART
STBC, 1×1 MIMO, 2×1 MIMO
A-MPDU & A-MSDU aggregation & 0.4ms guard interval
Wake up and transmit packets in < 2ms
Standby power consumption of < 1.0mW (DTIM3)