OUR STORE IS OPEN! HOURS: MON - FRI 9AM - 5PM (SAT/SUN CLOSED) VISIT US IN-STORE FOR A SAFE SHOPPING & SERVICE EXPERIENCE, OR SHOP ONLINE FOR PICKUP OR DELIVERY.
close

CATEGORIES

Featured Items

BENCH PROG. DC SWITCH POWER SUPPLY...

More mirco-controllers

More Developement Tools

More Prototyping

More Modules

Featured Items

Raspberry Pi 4 Model B A...

More prototyping Tools

COMMUNITY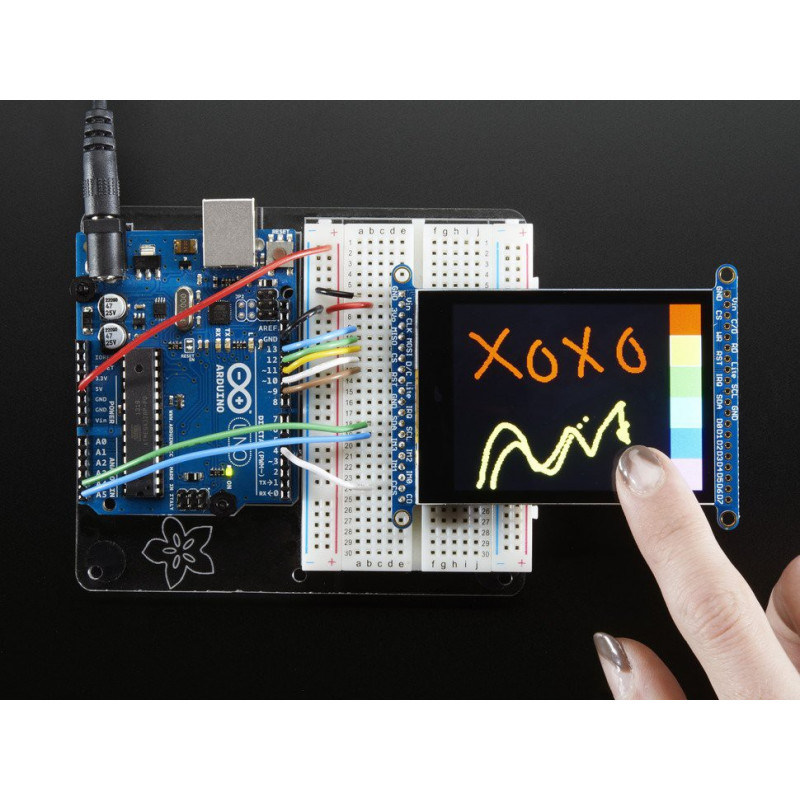 All pictures are for illustrative purposes only.
 
2.8" TFT LCD W/ CAP TOUCH BREAKOUT BOARD W/MicroSD SOCKET
2.8" TFT LCD W/ CAP TOUCH BREAKOUT BOARD W/MicroSD SOCKET
*Off Adafruit:
Add some jazz & pizazz to your project with a color capactive touchscreen LCD. This TFT display is big (2.8" diagonal) bright (4 white-LED backlight) and colorful! 240x320 pixels with individual RGB pixel control, this has way more resolution than a black and white 128x64 display. As a bonus, this display has a capacitive single-touch touchscreen attached to it already, so you can detect finger presses anywhere on the screen.
This display has a controller built into it with RAM buffering, so that almost no work is done by the microcontroller. The display can be used in two modes: 8-bit and SPI. For 8-bit mode, you'll need 8 digital data lines and 4 or 5 digital control lines to read and write to the display (12 lines total). SPI mode requires only 5 pins total (SPI data in, data out, clock, select, and d/c) but is slower than 8-bit mode. In addition, 2 I2C pins are required for the touch screen controller.

We wrapped up this display into an easy-to-use breakout board, with SPI connections on one end and 8-bit on the other. Both are 3-5V compliant with high-speed level shifters so you can use with any microcontroller. If you're going with SPI mode, you can also take advantage of the onboard MicroSD card socket to display images. (The microSD card not included, but any will work)