Sep 2020 Update: At this time, Masks are now mandatory inside the store.
Store address and hours
location_on 4131 Fraser St. Vancouver BC Get Directions
phone 604-875-1993 Call us
access_time Hours
Closed

• Opens Mon at 9AM
Monday - Friday
9AM - 5PM
Saturday - Sunday & Holidays
Closed
close

CATEGORIES

Featured Items

BENCH PROG. DC SWITCH POWER SUPPLY...

More mirco-controllers

More Developement Tools

More Prototyping

More Modules

Featured Items

The Arduino Uno Rev3 is a...

Raspberry Pi 4 Model B A...

More prototyping Tools

COMMUNITY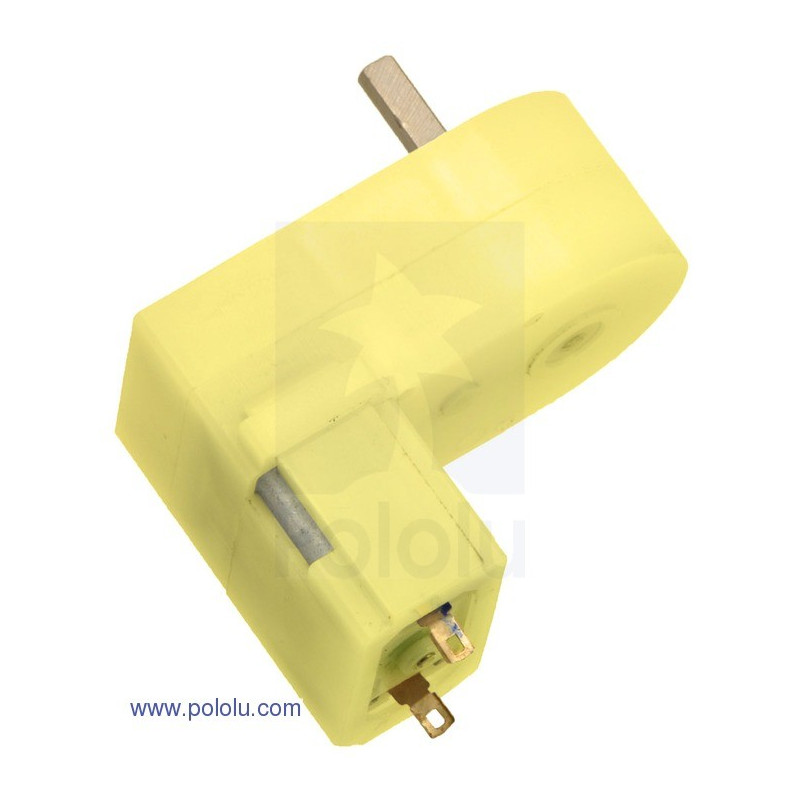 All pictures are for illustrative purposes only.
 
180:1 MINI PLASTIC GEARMOTOR OFFSET 3MM D-SHAFT
This compact, inexpensive, low-current gearmotor (brushed DC motor with a 180:1 reduction gearbox) is well suited for use in small robots. At 4.5 V, it has a free-run speed of 80 RPM and a stall torque of approximately 30 oz-in (however, the built-in safety clutch might start slipping before the stall torque is reached). The D-shaped output shaft has a diameter of 3 mm.
180:1 MINI PLASTIC GEARMOTOR OFFSET 3MM D-SHAFT
Overview
This brushed DC gearmotor is very compact and weighs only 0.7 ounces (19.5 grams) — perfect for building a quick, miniature robot. The recommended operating voltage range for this motor is 3 to 6 V, though the gearmotor can start rotating at voltages as low as 0.6 V. At 4.5 V, the motor has a free-run current of 80 mA and a stall current of 800 mA; this relatively low current draw makes this a great match for our qik 2s9v1 dual serial motor controller and programmable Orangutan robot controllers. The stall current, torque, and rotation speed will approximately scale linearly with the motor voltage. The gearbox is protected by a built-in safety clutch that will typically slip before gear teeth can shear.
Dimensions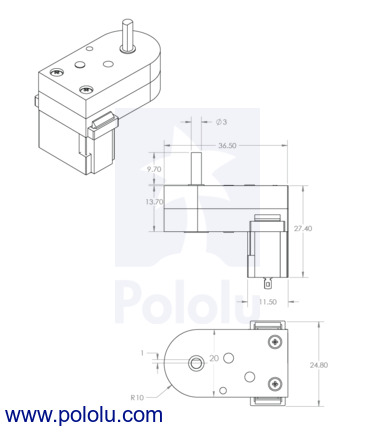 Dimensions (in mm) of the 120:1 and 180:1 mini plastic gearmotors with offset 3mm D-shaft outputs.
You can download a pdf version of this drawing here (44k pdf).
This gearmotor features a 3 mm D-shaped output shaft that matches those on our micro metal gearmotors and works with the Pololu wheelsand 3mm universal aluminum mounting hub: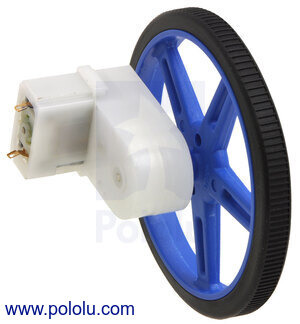 Mini plastic gearmotor offset 3mm D-shaft output with Pololu wheel.
The gearbox output shaft is offset from but parallel to the motor shaft.
Gearmotor Versions
This gearmotor is available with two different output shaft orientations—offset from but parallel to the motor shaft or perpendicular to the motor shaft—and in two gear ratios—120:1 (for higher speed) or 180:1 (for higher torque). The 120:1 gear ratio versions are also available with a 2mm-diameter spline output shaft that can be used with custom wheels or our adapter for LEGO wheels. In all, we offer six different versions of this gearmotor:
The 120:1 gear ratio versions have white plastic bodies and the 180:1 gear ratio versions have yellow plastic bodies (see the main product picture).