NEWS UPDATE: YES, WE ARE OPEN! MON - FRI 9AM - 5PM (SAT/SUN CLOSED) VISIT US IN-STORE FOR A SAFE SHOPPING EXPERIENCE, OR SHOP ONLINE FOR PICKUP OR DELIVERY.
close

CATEGORIES

Featured Items

BENCH PROG. DC SWITCH POWER SUPPLY...

More mirco-controllers

More Developement Tools

More Prototyping

More Modules

Featured Items

Raspberry Pi 4 Model B A...

More prototyping Tools

COMMUNITY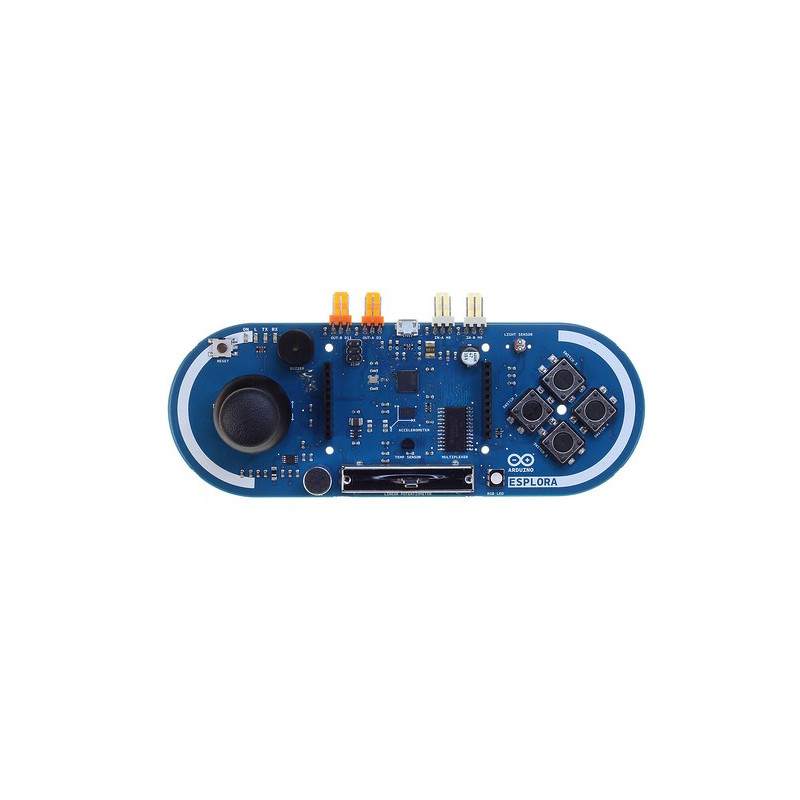 All pictures are for illustrative purposes only.
 
ARDUINO ESPLORA
The Esplora has onboard sound and light outputs, and several input sensors, including a joystick, a slider, a temperature sensor, an accelerometer, a microphone, and a light sensor. It also has the potential to expand its capabilities with two Tinkerkit input and output connectors, and a socket for a color TFT LCD screen.
ARDUINO ESPLORA
Get started at the official arduino esplora site: http://arduino.cc/en/Guide/ArduinoEsplora
Copy the code below, and paste it into the Arduino IDE. Make sure you have the right serial port and the Esplora board selected, as you did previously. Plug your board in and upload the code. Once it is uploaded, you should see the RGB LED flashing.
// include the Esplora library




#include <Esplora.h>





void

setup

(

)

{




// nothing to setup




}





void

loop

(

)

{





// write light level to the red LED




// 0 means the LED is off, 255 is full brightness


Esplora.

writeRed

(

255

)

;





// add a delay to keep the LED lit for




// 1000 milliseconds (1 second)




delay

(

1000

)

;





// turn the red LED off, and the green LED on


Esplora.

writeRed

(

0

)

;


Esplora.

writeGreen

(

255

)

;





// add a delay




delay

(

1000

)

;





// turn the green LED off, and the blue LED on


Esplora.

writeGreen

(

0

)

;


Esplora.

writeBlue

(

255

)

;





// add a delay




delay

(

1000

)

;





// turn all the LEDs on together


Esplora.

writeRGB

(

255

,

255

,

255

)

;





// add a delay




delay

(

1000

)

;





// turn the LEDs off


Esplora.

writeRGB

(

0

,

0

,

0

)

;





// add a delay




delay

(

1000

)

;




}