STORE FRONT TEMPORARY CLOSED | $9 SHIPPING FOR ORDERS $50+ | FREE SHIPPING FOR ORDERS $100+ | BC RESIDENCE ONLY | NOTE: PLEASE EXPECT A SHIPMENT DELAY OF 1 TO 2 DAYS DUE TO HIGH VOLUME OF SHIPMENTS RECEIVED.
close

CATEGORIES

Featured Items

BENCH PROG. DC SWITCH POWER SUPPLY...

More mirco-controllers

More Developement Tools

More Prototyping

More Modules

Featured Items

The Arduino Uno is a microcontroller...

Raspberry Pi 4 Model B A...

More prototyping Tools

COMMUNITY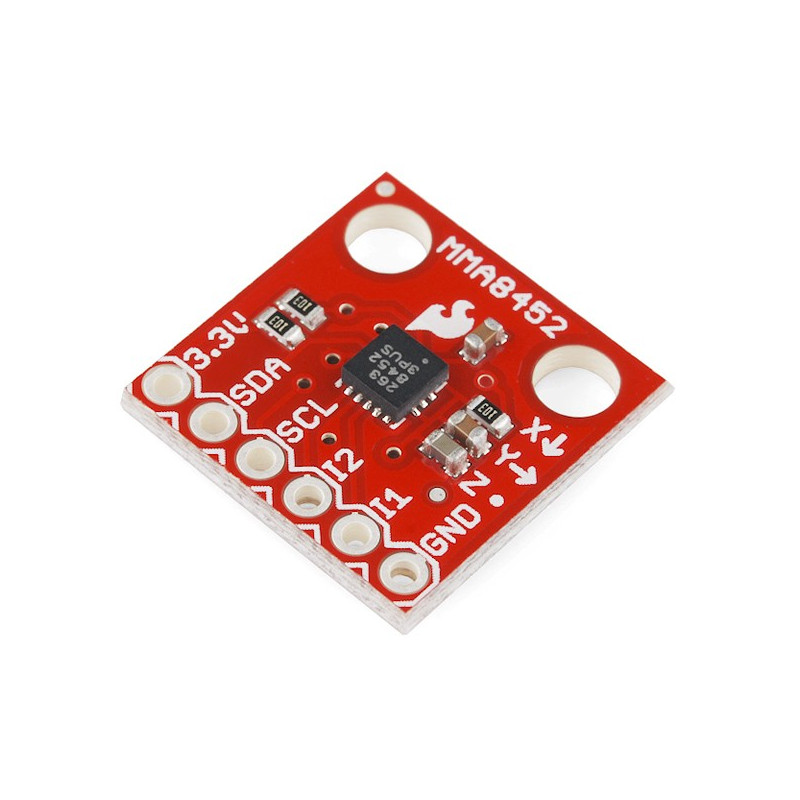 All pictures are for illustrative purposes only.
 
TRIPLE AXIS ACCELEROMETER BREAKOUT - MMA8452Q
This breakout board makes it easy to use the tiny MMA8452Q accelerometer in your project. The MMA8452Q is a smart low-power, three-axis, capacitive MEMS accelerometer with 12 bits of resolution. This accelerometer is packed with embedded functions with flexible user programmable options, configurable to two interrupt pins.
TRIPLE AXIS ACCELEROMETER BREAKOUT - MMA8452Q
The MMA8452Q has user selectable full scales of ±2g/±4g/±8g with high pass filtered data as well as non filtered data available real-time. The device can be configured to generate inertial wake-up interrupt signals from any combination of the configurable embedded functions allowing the MMA8452Q to monitor events and remain in a low power mode during periods of inactivity.
This board breaks out the ground, power, I2C and two external interrupt pins.
Not sure which accelerometer is right for you? Check out the Sparkfun Accelerometer and Gyro Buying Guide, it might help!
Features:
1.95 V to 3.6 V supply voltage
1.6 V to 3.6 V interface voltage
±2g/±4g/±8g dynamically selectable full-scale
Output Data Rates (ODR) from 1.56 Hz to 800 Hz
12-bit and 8-bit digital output
I2C digital output interface (operates to 2.25 MHz with 4.7 kΩ pullup)
Two programmable interrupt pins for six interrupt sources
Three embedded channels of motion detection
Orientation (Portrait/Landscape) detection with set hysteresis
High Pass Filter Data available real-time
Current Consumption: 6 μA – 165 μA