M-F 9-6 PST, SAT 9-5 PST, SUN CLOSED
close

CATEGORIES

Featured Item

BENCH PROG. DC SWITCH POWER SUPPLY...

More mirco-controllers

More Developement Tools

More Prototyping

More Modules

Featured Items

The Arduino Uno is a microcontroller...

Raspberry Pi 4 Model B A...

More prototyping Tools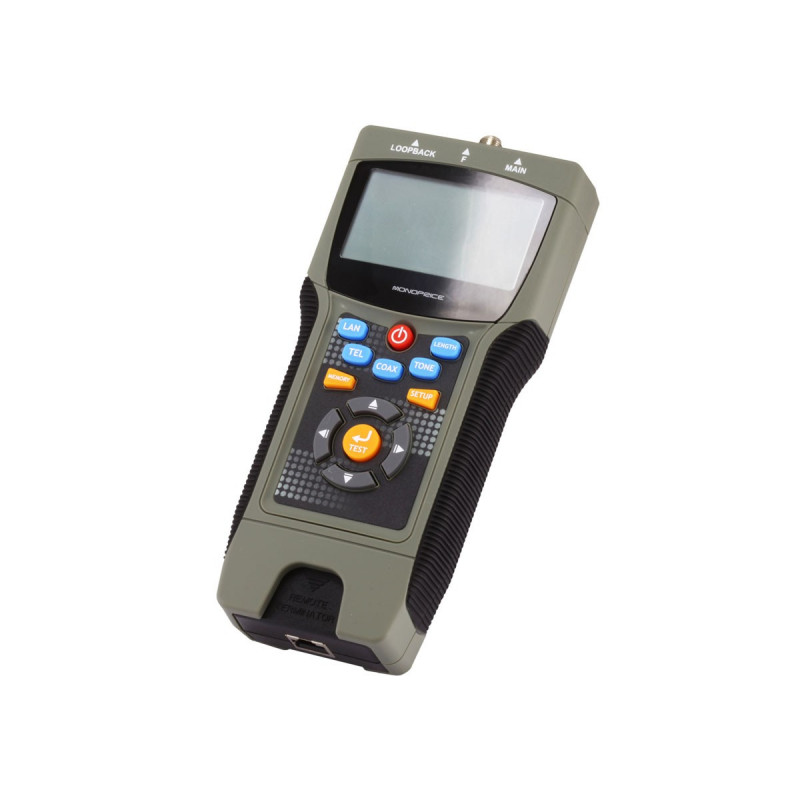 All pictures are for illustrative purposes only.
 
MULTIFUNCTION TESTER W/DISPLAY RJ45/11/12, COAXIAL
MULTIFUNCTION TESTER W/DISPLAY RJ45/11/12, COAXIAL
This item has been retired.
The Multifunction Tester with Display RJ45/11/12, Coaxial is one of the easiest to use and most complete multifunction cable testers available.
This unit can test the integrity of RJ45, RJ11/12, F-type Coax, and BNC Coax cables for shorts, open conductors, crossed wires, and cable length. The 16 x 4 character LCD display shows either Pass or Fail on any cable test, and if Failed, the specific wires that failed and the type of failure.
The Loopback testing mode can test any RJ type cable (11/12/45) with each end connected directly to the tester. This can test for Open, Short, Crossed, or Split conditions for each conductor. It also identifies whether the RJ cable is shielded or unshielded. Additionally, it can show the distance along the cable at which an Open occurs using the built-in Time Delay Reflectometer (TDR), allowing you to easily locate the point of failure. Cable length can be tested out to 350 meters.
When testing Coax type cables and RJ45 with the ends at different locations, the included Remote Terminator is used to test for Open, Short, or Crossed connections. When an Open condition is detected, the distance to the break point is displayed. The Remote Terminator is stored in the base of the unit and can be easily removed for testing.
Both the Length and Tone modes are tested without a terminator or direct connection to the other end of the cable. The length mode shows the total length of the cable, or the length to any existing cable break. In Tone mode the tester sends a tone down the cable, which can be sensed using an Amplifier Probe (not included). This can be used identify cables within a bundle or as an alternate method of locating cable breaks.
A built-in memory module allows you to store 8 results each for LAN and TEL modes, plus 4 results each for Coax and Length modes. The tester has an automatic power-off feature to save battery life, which kicks in after 5 minutes of nonuse in all modes except TONE mode, and after 30 minutes in TONE mode.
Here are some Features of the multifunction tester.
Click User Manual for more information.
WARNING!!! Do not test live circuits as it could cause damage to the tester unit or personal injury.